The Dark Sides of Digital Marketing
Vol. 13 / No. 1 / 2021
The Dark Sides of Digital Marketing
Unintended Effects • Marketing Dystopia • Privacy • Algorithms • The Illusion of Free Choice • Automated Decisions • Augmented Intelligence • Metrics Gone Wrong

In this issue, we take a closer look at the dark side of digital marketing: What are unintended consequences of excessive use and automatized processing of personal data? Do algorithms really act in consumers´ best interest? Do they help us make better decisions or has freedom of choice become a mere illusion? What is the role of data driven algorithms in the spread of fake news and the polarization of societies? We do not only point the finger at the dystopian consequences of digital marketing, we also present ideas about how to mitigate some of these harmful effects - for individuals, for companies, and for society.

Guest Editor
Caroline Wiertz, Professor of Marketing, Associate Dean for Entrepreneurship, Cass Business School, City, University of London
Download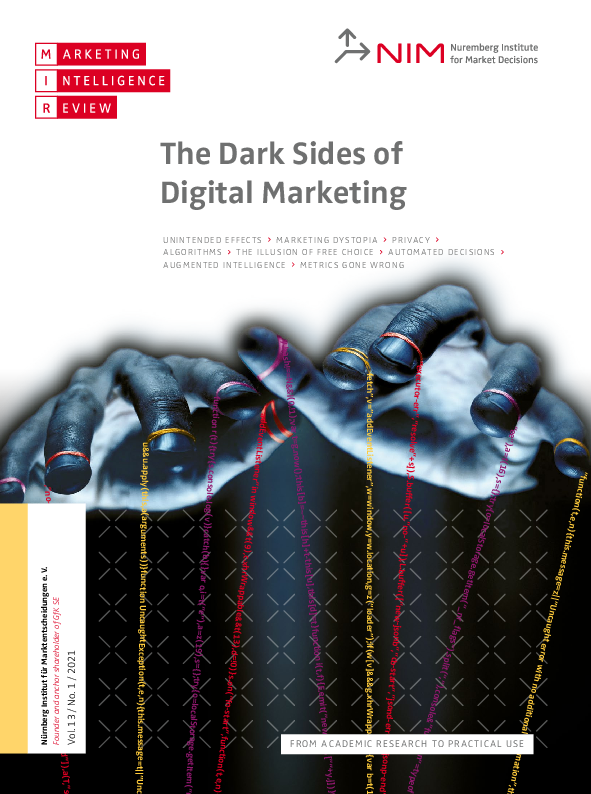 Professor Caroline Wiertz presents the issue of the NIM Marketing Intelligence Review on "The Dark Sides of Digital Marketing"